Disability Practice in the Spotlight
The rewards of work are immeasurable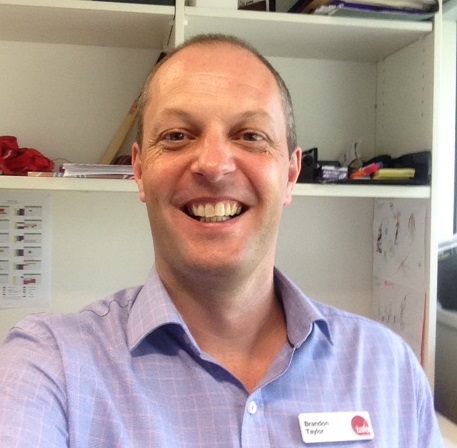 Brandon Taylor discovered his passion for working with disadvantaged youth early in his career. After a period of travelling the globe, Brandon trained in teaching (Further, Higher & Adult Education) and discovered that there was a need in the Vocational Education Training (VET) sector in helping students with learning difficulties and other educational challenges navigate education options. His passion sparked a lifelong career dedicated to the cause of furthering education for disadvantaged students.
Brandon is the Manager of Student Support for TAFE Queensland, serving the Brisbane region. He has found his experience of working to enrich the lives of students over the last 11 years with TAFE Queensland to be deeply rewarding, moving through the system in providing disability support services until landing in the Manager role 4 years ago. Prior to this, he taught literacy, numeracy and life skills programs with disadvantaged youth, discrete learning programs with adults in the workplace and additional support programs for students struggling to maintain their VET programs. He wanted to truly engage in assisting students to "navigate potential study options, [learn] where their interests really [are], [help students] aim for something they enjoy and [assist students] to get further in their lives."
Upon being asked about his observations regarding changes across the sector in his professional career, Brandon comments upon the concerning rise of mental health issues amongst the student population and further reflects:
"Compared to some years ago, generally there is less time for students to settle in and less time for educators to spend with their students. This presents challenges all round and definitely for those who would benefit from more transition time to acquaint themselves with student life, learning management systems and developing a study routine."
The rewards of his work are immeasurable, with an empathetic response that there is an immense level of pride from watching students graduate, successfully complete assessments and working alongside outstanding practitioners in this field, who invest a similar level of time, devoting themselves to ensuring equity of access for students accessing education in TAFE.
Brandon reveals his formula for success: Teamwork. He states that "sharing knowledge, skills and tips" are vital, with reflective practices used to consider interactions to improve upon outcomes for students.
In particular, he has these words of wisdom for new and experienced practitioners alike:
"Firstly, always remember the student. We can have all the technology, policies and processes in the world but it's nothing without a student centred focus. Secondly, listen to your students. As educators and practitioners, we know our systems, infrastructure and challenges but it's the students first time, they still have their 'L-plates'. Finally, in our [continually] increasing workload and competing priorities, [we must] take the time to reflect with colleagues. Share experiences, best practice, collaboratively problem solve and don't leave your sense of humour unattended when your week is booked out."
Reciprocally, the first advice Brandon ever received was inadvertent, arising from a student interaction. Brandon had been asked to take over a term of teaching for a particular class, when he was informed by a fellow teacher that one student in his class was blind. As a newly qualified teacher, he recalls being baffled, unsure of how to assist this particular student in his learning. Once his class commenced, he sat down with the student and asked them how he could best assist them in their learning. The student was able to articulate his needs in a manner that enabled Brandon to make appropriate, reasonable adjustments for him. The advice he gained from this encounter was "ask the student - what works for you?"
Another avenue of professional development is conferences, and Brandon has been fortunate to attend the Pathways Conference twice, to further his knowledge of equity in education.
"The Pathways conference is a great opportunity to meet practitioners with similar challenges and concerns but who may have alternative experiences, outcomes and solutions. As practitioners we don't tend to get the opportunities to meet face to face or give ourselves enough professional development. Therefore, Pathways becomes more important and valuable. The networking, knowledge and skills shared also last much longer than the conference itself."
These conferences also give practitioners an opportunity to reflect upon where the sector is headed, and what practitioners would love to see take place to ensure greater efficiency in meeting targets for equity in education. One such difference which Brandon would love to see is more part-time study options for students with greater consultation with all relevant stakeholders to drive structural changes and additional funding to meet the goals of practitioners.
Brandon has made an outstanding impact in meeting the needs of students accessing education within TAFE Queensland, however he has an additional source of pride: Outside his work, he is a proudly married father with two young boys. He enjoys spending his down-time revitalising himself for his role by taking them to the beach, playing in the park, and generally sharing fun times which translate into precious memories for the whole family.
(April 2019)
Written by: Jane Britt