Disability Practitioner in the Spotlight
Carol Witney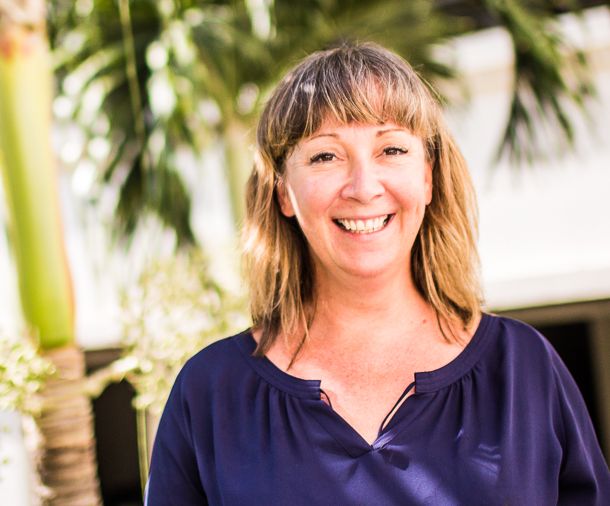 Smashing down barriers….gently
Originating from Oxford, a Masters from Glasgow and working in Vietnam for the last nine years gives Carol Witney a wonderful international perspective into access and inclusion. Carol is currently the Disability Practitioner for RMIT at their Vietnam campuses. The Vietnamese RMIT has an enrolment of 6000 students and operates over two campuses, the largest in Ho Chi Minh City, and a smaller one in Hanoi.
As with all students, there is a great sense of fun within the Vietnamese student experience. They are very excited and engaged with the clubs and societies on offer. They also come with great respect for their teachers and an expectation they will be told exactly what to do in their learning. Therefore a lot of support is provided to encourage independent learning and participation in group tasks.
In a country that seems to be forever changing, the RMIT campus is no exception. When Carol first started the campus was located in the middle of the jungle. In the last year a business district has grown up around it, which includes four enormous shopping malls with cinemas, bowling alleys, and many of the same shops and fast food outlets you see around the world.
Carol's working career has consistently focused on access and inclusion. This has included working in the UK to assist young homeless people and travelling gypsy women access health care services. After completing a Masters in Public Health Carol, a keen traveller, jumped at the opportunity to take up a volunteer position in Vietnam working with trafficked women. From there she worked with RMIT Vietnam as a Learning Skills Adviser, however it soon become evident that a lot of students had learning difficulties due to disability, but there was no specific services to support this. Carol consequently started working as a part-time disability adviser within Learning Skills. At the end of 2013 RMIT opened a Disability Resource Centre located in Student Services, and Carol is now the fulltime (and only) Disability Adviser within this Wellbeing and Counselling unit. The small team also has 2 psychologists and a counsellor.
"My alignment within the student services team is so important for arranging assessments for students with learning disability or mental health issues, especially as the assessment options outside the university environment are virtually non-existent".
There are currently 50 students each semester who are supported by Carol. The range of disability includes physical, dyslexia, Tourette's syndrome, cognitive processing disorders, ASD, visual, and mental health. Despite the fact she is tucked away in an office by herself students find her, and many drop by on regular basis just to say 'hi'.
There is a great need to be mindful and gentle with the approach taken with students and the community. "Here disability is often seen as a curse, bad karma for something the family has done, so there is lots of work to do on breaking down this stigma". Students are often reluctant to say something about their disability, or mental health issue due to a fear that they will be asked to leave the university. "I worked with a student and not only was he anxious about his university place but feared he may also lose his job if he disclosed".
It is also important to be mindful of the pressure on students to perform as their families pay up-front fees. For some this means that an entire family may put all their money into putting one person through the university.
Carol has been helped in breaking down stigmas by an enthusiastic group of students. These students undertook the project of promoting the new Disability Resource Unit as part of a Professional Communication course. They developed a media strategy, engaged people from the Government and developed an on-campus publicity campaign that included the development of posters. These 'Twist Your Lens' posters promoted positive messages such as 'I have a vision impairment that allows me to see the world in different ways'. "The use of these students who were influential in the student body was a great help in smashing down a few barriers and stigma".
Students with physical disability and visual impairment were also instrumental in providing feedback on the accessibility of campus. Their identified areas of concern were subsequently addressed.
Building and developing connections in the community are a vital aspect of Carol's role. Membership of the Ho Chi Minh Disability Working Group provides her an opportunity to learn and work with others in the community. In the future she would like to see her Uni take a greater role in hosting small conferences for the local community. There is a great emphasis in Vietnam to pass your knowledge on. "KOTO – know one, teach one – is an underlying principle".
And she is proud of the fact that RMIT is also giving back to the community through the provision of annual Opportunity Scholarships. These full scholarships covering fees, accommodation on campus, a laptop and stipend are awarded to students who are disadvantaged due to disability, geographically and/or economically. Applicants are identified by NGOs, and the six recipients to date are achieving high academic success.
As with many other Disability Practitioners Carol uses a LAP process, that includes strategies to provide alternative assessments and examinations provisions. Disability Awareness is included in the induction of all new learning and teaching staff. By 2017 the institution aims to have all course material available on-line and accessible. It is also rolling out, (currently being tested by students) an accessible PowerPoint template to be used by all presenters.
As the only Higher Education Disability Practitioner in Vietnam she finds ADCET an invaluable information source. Much of the material is included on the institution's webpage to share with and inform academic staff. Carol attended the last Pathways Conference which was a great opportunity to share ideas and knowledge, and is keenly looking forward to the next one.
Into the future Carol would like to see more support for students with Learning Disability, students with disability to run disability awareness training for other students and to be responsible for organising IDPWD campus celebration activities, and to share RMIT good practices with other education providers in the region. "One young wheelchair user was told by another regional uni that if she wanted to attend that uni she needed to find a fellow student who would be willing to put her on their back to carry her up the steps to the building". Carol would also like to see the use of more mindfulness stress reduction strategies in the uni. "As a Buddhist country mindfulness concepts are intuitively understood, so it would be great to use it in this context"
Carol would strongly encourage anyone to take up such an opportunity working overseas. It has its challenges but is very worthwhile and humbling. "I came here with lots of ideas, but sometimes you just need to sit and listen". "Everyone has their own story, everyone has their own experience of their disability, but it is important also not to assume they have all the information and knowledge about their condition". "And as everywhere else it is vital to remain focused on access to education as a human right".
When not at work Carol loves spending time with her 5 year old daughter, bike riding and walking their dog Henry. She keeps fit and practices meditation. So after nine years in Vietnam what is next for Carol? She loves the job, loves the people, loves the place. She has great support from RMIT and the VC. She has signed up for another 2 years, and her 5 year old daughter identifies as Vietnamese. One thing is for certain though, she will continue creating opportunities for access and inclusion wherever she is located.