Planning for post-secondary education
Successfully entering post-secondary education takes planning, preparation and careful consideration, for all students, and is crucially important for students with disability.
This section covers all the things you need to consider about post-secondary education including:
preparing yourself
NDIS and further education resource
career planning
choosing a course
choosing where to study
financial considerations
preparation and bridging programs
modes of study
who to contact at university
who to contact at TAFE
Tips for tertiary
There are many things to take into account, and plenty of practical steps that you can take to ensure that you are fully prepared to take the next step in your education.
Identifying and managing your own expectations of study is an important aspect of your success. This process can and should begin in the preparation for study stage and be closely monitored throughout by you, the student.
The expectation for most students is an investment of two to five years to earn a specific qualification before transitioning into employment after graduation. In some students' lives, however, the reality does not match the expectation.
As a student with disability and/or medical condition, you may experience some setbacks or difficulties along your path. These 'speed humps' may include time off studies for:
ill health
hospitalisation or medical treatment
stress and anxiety (which may or may not be related directly to your disability)
Your study schedule may not always follow a straightforward, sequential pathway, and you may need to incorporate changes to your plan. These changes may involve an alteration to your mode of study, type of academic/study-related adjustment, timeline for course completion, and your personal and career goals.
Allow copious amounts of flexibility and be kind to yourself.
NDIS Pre-planning Toolkit for people with disability entering Higher Education or Vocational Education and Training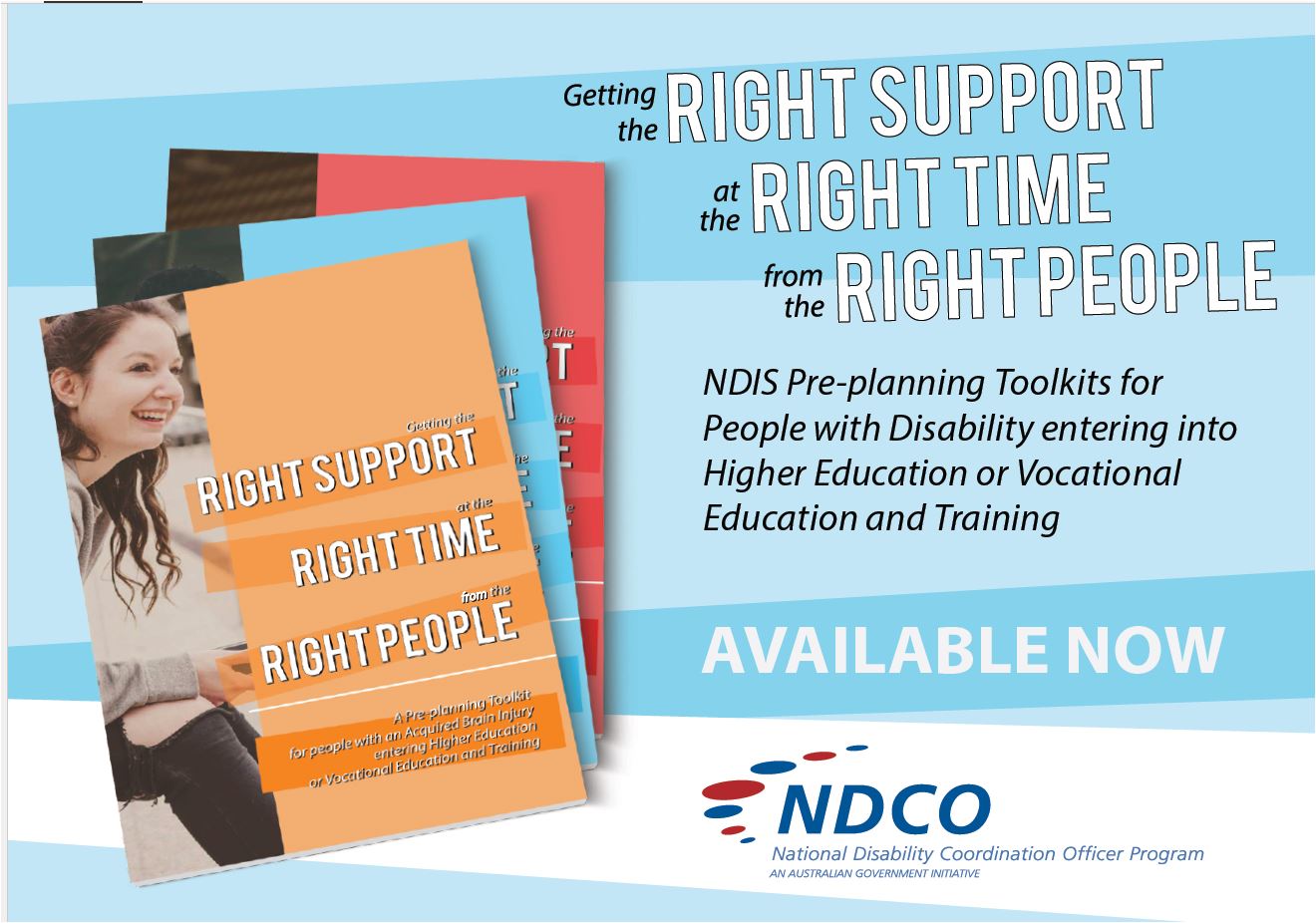 Getting the Right Support at the Right Time from the Right People.
The NDIS Pre-planning Toolkit is for people with disability entering Higher Education or Vocational Education and Training. It is designed to be used before you start a tertiary course at university or with a vocational education and training provider. 
Your disability may mean you require extra support to complete your chosen course to ensure your participation is on the same basis as other students. These booklets will help you identify what supports you may need, who is responsible for providing them and how you can access them.
There are eight specific resources for the most prevalent disability types accessing further education and training.
Access Plans
As a student with disability you have the right to access and participate in education and training in the same way as any other students. This right is protected under the Disability Discrimination Act and all education and training service providers are required to uphold this right. To this end you may require some study related reasonable adjustments or supports to assist you with your post-secondary education or training.
Most providers will have a disability practitioner or disability service areas to assist you with information on supports and develop an access plan (often also known as a Learning Access Plan (LAP) or Integration Plan) that will outline the reasonable adjustments and support to assist you participate in your studies. Find out more about access plans