Disability Practice in the Spotlight
Peer-to-Peer, Heart-to-Heart: Mentoring Students on the Autism Spectrum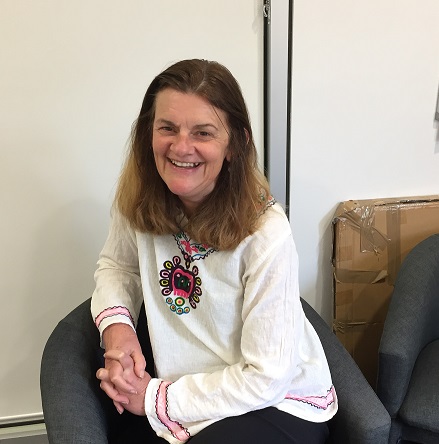 Debbie Hindle, SPEERMENT Program Coordinator, University of Tasmania.
The minute I met Debbie Hindle, it feels like I'm reacquainting myself with an old friend. Warm, empathetic, deeply compassionate and proudly enthusiastic about her work, after meeting face-to-face, the telephone interview which follows is a flowing, rich and warm conversation. In fact, it is an act of kindness which cements my respect for her, a story I will return to at the end of this post.
Debbie Hindle is Coordinator of SPEERMENT (Specialist Peer Mentor Program) at the University of Tasmania. She helped create, implement and continues to develop this unique initiative at The University of Tasmania for students with autism to be mentored by peers.
The program started with 5 peers and 5 students being mentored in August 2017 however this has since expanded to 25 students being mentored and 22 peers across Tasmania. Debbie is appreciative that she was able to build on resources from Curtin University and the Autism CRC in developing SPEERMENT. The program operates in a structured manner, with students meeting their mentor once a week, face-to-face on campus to work on strategies to improve their success at uni. The peer is generally a 3rd year university student who has been identified as well-organised in their own studies, compassionate and community-minded; a fundamental attribute of peers is the ability to quickly establish trust in their relationship with the student they are mentoring. The group in the program also have social get-togethers during the university semester.
A primary function of the mentors is to check students are on track to meet all of the course assessment requirements. This includes determining if the student with autism understands and has all the information they need to successfully complete tasks. If the assessment involves group work, the mentoring work includes helping the student develop skills to better understand the social aspects of task completion. The weekly check-in also serves to determine if a student is coping OK with their overall workload. Mentors engage in continuous review and reflection of their work to determine how to improve the process of their mentoring to achieve the outcomes needed by the student. The program means that these mentors, too, will leave the university and take the skills and knowledge they have learnt into the wider community for the benefit of all.
Debbie became involved in this specific project in July 2017, with the roll-out of the program occurring in August. Prior to that, her career background includes working as a National Disability Coordinator Officer for 7 years and also worked as a Project Officer for the NDCO. Specifically, her work centred on creating resources with advice on how to effectively enable students on the autism spectrum to transition to tertiary education.
"As an NDCO, I became increasingly aware of the difficulties students with hidden disabilities have in navigating the tertiary environment and the unique challenges that students on the autism spectrum have when transiting to further education."
Debbie expresses that the unpredictable, illogical environment of tertiary education can create challenges for any new student, but can be especially difficult for students on the autism spectrum making the transition. This awareness paved the way for the development of the SPEERMENT program. Debbie also acknowledges the valuable insight and understanding she has gained from being a mentor herself for the past 8 years to someone on the autism spectrum. This has opened her eyes to the difficulties someone with autism can have in proving their capabilities to the world.
The rewards of her job, she says, are the wins, both small and large, including seeing students completing activities they never would have done without the encouragement of their mentor. It might be gaining the confidence to go to the cafeteria, or getting great marks on an assignment. She also states that witnessing the growth of a student throughout their time in the program is deeply satisfying.
Throughout her time in this role, she has observed a number of changes including a growing awareness of the number of people who are on the spectrum in both in education and the broader community. Unfortunately though, Debbie says, this awareness does not always translate into a genuine understanding in education settings.
Most of us think in words, and our education and way of doing things is geared towards "word thinking". However, some people can think primarily in images or patterns, and this can make it difficult to achieve in an environment which doesn't accommodate your style of thinking.
"Depriving the world of not only validating a students' strengths but also not actually giving them a different approach [means you lose what a] student brings/offers to the world and [you are] depriving [everyone of their unique approach to a problem.]"
In addressing accommodation and access issues, Debbie's advice to other practitioners is: "If you're not getting it right, that's okay, you're just not there YET (in capital letters!) We know everyone is different, so we need to have a flexible approach [to problems]."
She also recommends connection with other practitioners at events like the Pathways conference; "sometimes you can feel like you are on your own in your role, but this conference connects you to others who are doing the same thing."
Outside of her work, she is able to achieve a balance to bring her best effort to her role in the program, by walking her dog through the bush surroundings in the morning, sitting quietly with a coffee to unwind and gardening. In terms of her professional role, she says she is driven by a love of learning… And it shows when you ask her to speak about her work.
On a final note, I will return to when we first met. I share this anecdote which perhaps expresses the profound sense of compassion which has made this program successful. A few weeks ago I had the fortune of travelling to the Blind Citizens Australian National Convention in Hobart, Tasmania. Debbie was a volunteer throughout this conference, notably acting as a sighted guide when I wanted to visit the Salamanca Market. Throughout my market visit, I was trying to find Raspberry Vinegar to bring back to Northern NSW to gift to my Mother; a special, key ingredient in her signature Bolognese sauce. I was unable to locate it however just prior to leaving Hobart to return to Brisbane, a bottle was given to me. After leaving me at the conference, Debbie had been determined to find me the vinegar.
A humble individual, I am certain she would never reveal a story like this of her kindness or compassion. I was deeply moved though and insist that the world learns of her kindness. A rewarding career helping others seems not just deeply fitting but unsurprising, for this beautiful woman with a generous heart.
Written by: Jane Britt