Disability Practitioner in the Spotlight
Kay Dean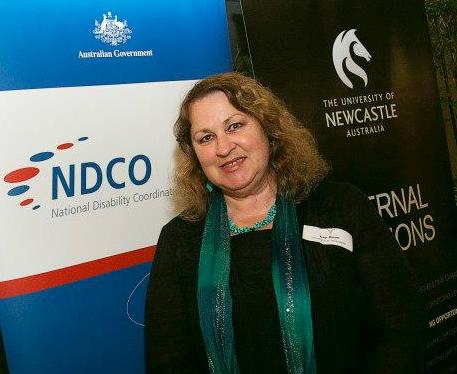 Supporting the supporters
There is a saying throughout the Hunter and Central Coast: 'If you're not linked with Kay you're not in the Loop'. This is a well-earned tribute to Kay's passion, energy and expertise as a National Disability Coordination Officer (NDCO) working across a range of providers and services to facilitate good transitions for people with disability to further education or training, and from there to employment. And it also encapsulates how the NDCO program plays a vital role in the sector.
After 35 years of working in the University of Newcastle student services division which included disability support and student equity roles, and for the past fifteen years of that as the NDCO, Kay has seen many times over how education has changed lives. A fact that she also knows first-hand.
Whilst a Student Equity Officer Kay remembers being told by a student 'we could never do what you do' during a visit to a local high school. However, that student was sitting in the same classroom of the same high school that Kay attended. And Kay left school at Year 10 because no-one explained her options or what support could be available. "I always remember that feeling, and therefore I always make sure people have plenty of information and support to understand what choices they have." She's since gone on to do a degree, and values the importance of connections more than ever.
The NDCO role allows Kay to work to this motto across Uni, TAFE, VET providers, schools and the employment and community sectors. The work involves anything from working in schools to inspire students, to linking graduating tertiary students with the employment sector, and anything in between. She organises the Assistive Technology 'Accessing the Future' Conferences, pathways expos, Enhancing the Links Forums, is a founding member of the Disability Education Association of NSW/ACT, and is currently part of several Hunter disability Valley employment and transition projects. "Through the employment projects we are engaging people who thought they could never study. They are completing courses and getting jobs, and it's great to see the smiles on their faces. And to know that I've helped make a difference to their lives."
The NDCO role is a great resource for anyone in the sector and a vehicle for getting things to happen in their region. A key aspect of the role is to identify gaps, and to organise initiatives to meet local needs. "We are the gap fillers." "I encourage staff to give me their wishlist and I'll try and make it happen". It's also important to link with your NDCO so you can more easily keep up with changes and not feel as though you are working in isolation. "You don't know what you don't know". NDCOs can provide useful and timely information, advice and training to enable staff to assist their students transition successfully. NDCOs also work hard to establish regional networks, and linking in with these networks can make your life easier. "As NDCOs we love trying to make your job easier – if you don't know something just give us a call".
Kay also encourages disability practitioners to take the time to be supported by your peers. This is important even in the very busy times. "Attend training days, read ADCET, or if you are stuck for time, at least follow topical Facebook and Twitter accounts". That's why she regards Pathway Conferences as absolutely essential. Bringing people together is a great reenergiser, and provides practitioners with new ideas of improving the experiences of students, as well as how to care for themselves. And with eight Pathways Conferences under her belt Kay still regards it a privilege to attend and chair some sessions. (And has experienced some great late night singalongs in the bar!)
When Kay started as an NDCO 15 years ago the advice to her was "go get 'em". She had so many ideas of what she wanted to achieve in her region. But she has learnt that you can't achieve everything overnight, and whilst it is important not to let go of the dreams and visions, you have to learn to steadily scratch away at the barriers. She welcomes the time when there is truly genuine inclusive practice. Where everyone organises everything in an inclusive and accessible way, so there is no need for adjustments. When, as Mark Bagshaw from The ABLE Movement espouses, people with disability will not be special. And when everything is accessible for people with disability, the flow on affects mean it will benefit others, especially people from CALD communities and those from low socio-economic backgrounds.
Until then the role of the NDCO will continue to be important in making a difference in the lives of people with disability. NDCOs will also need to work closely with the National Disability Insurance Agency as the scheme rolls out across Australia. "We've never been needed more". For the people with disability who have employment in their plans the NDCO can assist with helping them into work through education, training, and in the Hunter their regional employment projects.
Kay regards herself as lucky to be working in an amazing job with amazing people. It's a role that "supports the supporters", which is the name of another campaign Kay facilitates to support businesses who provide employment opportunities to students and people with disability. So a penchant for coffee is not only about finding a good barista but is also about supporting one of the many cafes in her region that employs people with disability.
Kay also is passionate about the region she works and lives in. Especially with the new Hunter Expressway the Hunter vineyards are much closer to her home, and on the weekend she regularly takes her border collie walking around the vineyards and to a favourite little shop. "The chocolate shop just loves us!"