Interview: Tom Lobbe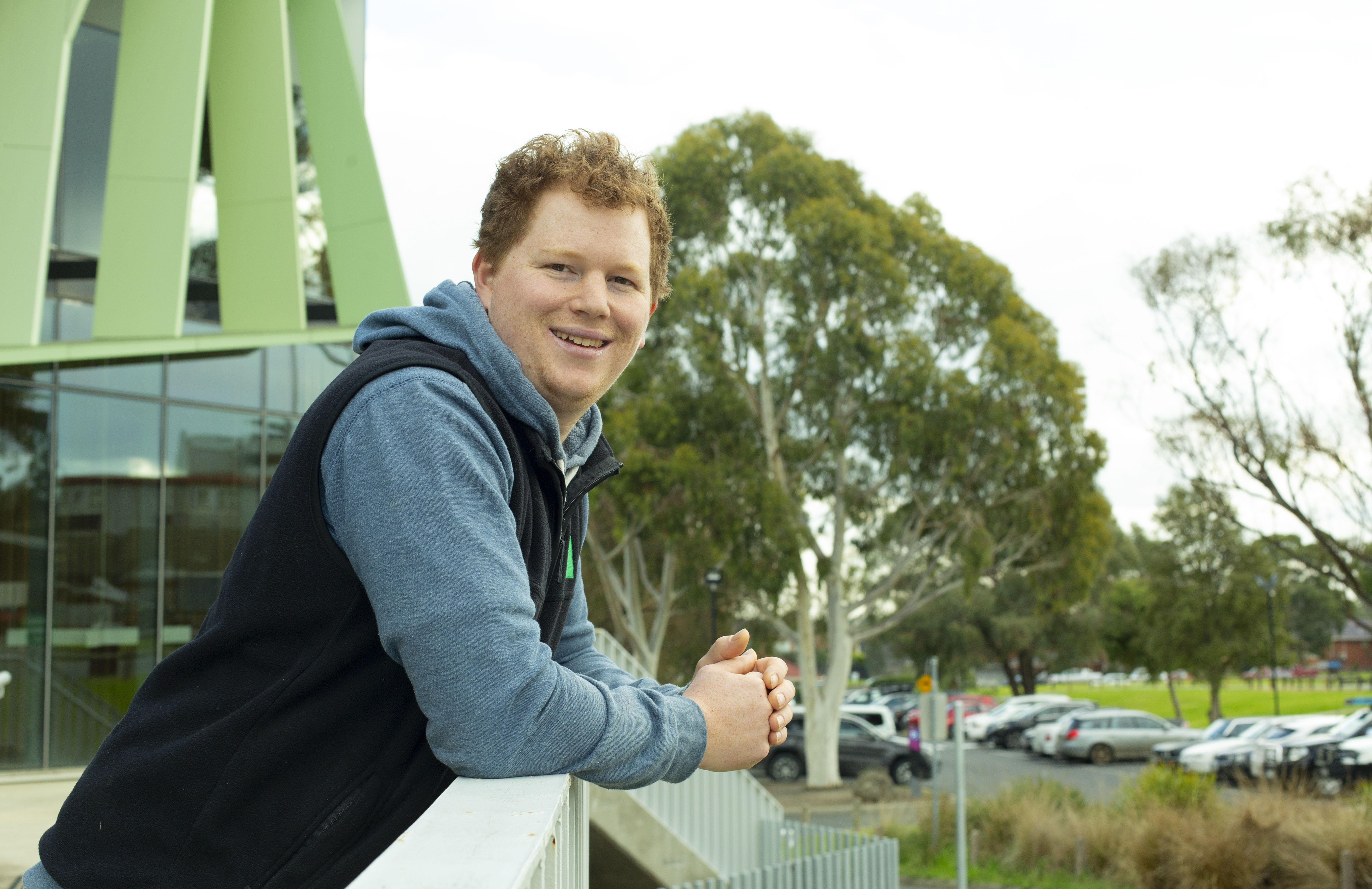 Throughout study you have also needed to manage your mental health and a genetic learning difficulty. What supports assisted you on this journey?
I've had a really good rapport with majority of teachers, some have been awkward to deal with, however, my accessibility advisor Sophie Holloway has done an amazing job of guiding me through the ups and downs of the pace required for study.
I've been able to chat with her on the phone or catch up in person. I've also had great support in terms of going through things mentally, for example if I'm going through a rough day when I've experienced intrusive thoughts she is there as a sounding board.
I've been very aware of how to access mental health assistance in the past but what Sophie has done is enhance some of the stuff I've learnt from them. She has made it possible to put adjustments in place and sometimes she acts as an unofficial counsellor in a way.
Part of coming back to TAFE was learning that I need to lean on people and this has been a tough but vital lesson to learn.
Earlier this year you were awarded the Kangan Institute Inspirational TAFE Student as part of the Young Victorian Achiever Awards, what was it like to receive this recognition?
I felt like I had already won just nominating myself and importantly, being in a position to go for it. Being shortlisted and then to take out the prize was a pretty sensational feeling. Almost a reward for all the hard work I've put in, coming back to TAFE, working through a mental illness and learning difficulty.
I feel like what the accolade represented (my journey back into TAFE after being diagnosed with a mental illness) was more fulfilling than winning the award.
You've become a Mental Health Ambassador in recent years, alongside your brothers Matt and Caleb, why do you think it's important to have people of lived experience talking openly about mental health?
It's about de-stigmatisation. An illness such as mine, schizophrenia, a lot of people think you're crazy and that it's drug or alcohol induced. Like with any other mental illness; Anxiety, depression, PTSD, I'm called on to use my story to help people become more open about it and share. I think some people find this really difficult, including me. It was a tough day being diagnosed but it was also a relief in that I knew what I was fighting against.
The more you share the more support options you open yourself up to. I think the stigma still exists because we're a mixture of generations. There is an older generation who may not be used to talking about mental health, then there is our generation moving towards this open discourse. Mental Illness became far more evident through health advances and far more common because of things like social media.
There is also a huge increase in professional care. When I was first at TAFE I didn't have a 'Sophie' to talk to. However now, these supports are there, and I can access them easily.
Being met with barriers through schooling or in life can slowly chip away at a person's capacity to persevere, what tools did you incorporate to maintain resilience as these barriers or bumps came up?
I'm very fortunate that I've always had a supportive family who has helped point me in the right direction to get assistance from professionals. Others may need to fight this on their own until they find the right health professional.
CBT and mindfulness through case management has helped me hold strong. CBT in the form of rationalisation is something I've been able to use really strongly throughout the years. E.g. If I hear a negative voice, now I can rationalise that there isn't someone physically there. This has been huge tool.
Distraction has also been useful, I love sport so going for a bike ride, a run or basketball, which can take me away from my own mental health.
What issues do you think higher education students in Australia are facing today?
The pressure with assignments and exams can be huge. At TAFE, my teachers have modified the program for a number of students to make positive change. I think there may not be room for this in all institutions.
I think we need more people like disability practitioners who can put plans in place to aide students to complete their studies. TAFE is more a community where I think University can be a larger organisation where this becomes difficult.
Student with psychological conditions represent the majority of those registered with disability services in higher education today, how do you think these services and institutions can better facilitate a successful experience for students?
There are not always the right people for this, you can have a teacher who doesn't get your plan, and they need to learn how to deal with it and teach around this. Sometimes fresh teachers may be thrown in the deep end. I think education around Disabilities could be really useful to gain a grasp or understanding in support.
The fact is 1 in 4 people in their lifetime will experience a mental illness, so I think the training should be almost compulsory as there's no doubt at some point in their career, a teacher will come across a student with mental illness.