Interview: Nas Campanella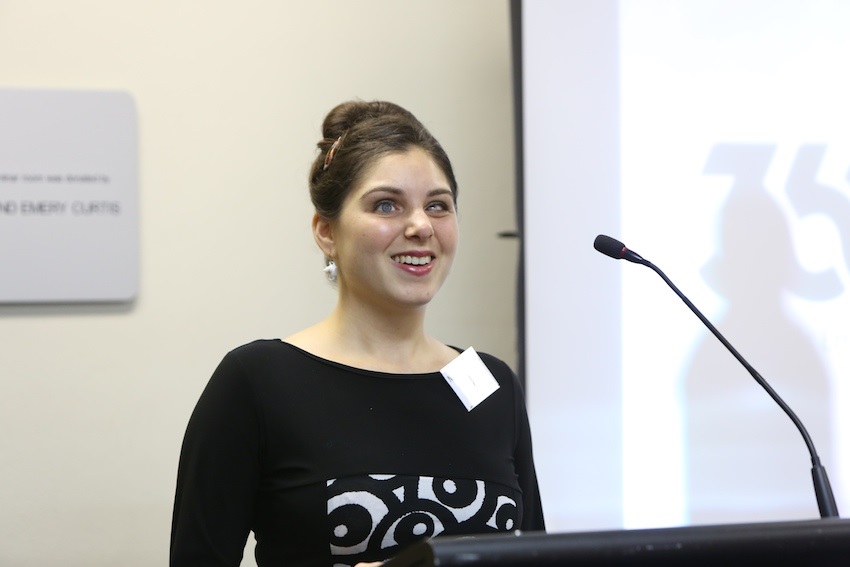 Nas Campanella is a journalist and newsreader with the ABC and Triple J. Nas lost her sight when she was six months old. She also has a sensitivity condition called Charcot-Marie-Tooth which means she can't read Braille.
Nas has completed a Communications degree at the University of Technology Sydney, majoring in journalism. She started with the ABC as a cadet in 2011.  Nas is the first blind newsreader in the world to read and operate the studio for herself live to air. Nas travels the world to speak at events, helping to inspire and motivate students, teachers, parents and industry on issues ranging from inclusive education, adaptive technology and supporting women to climb the corporate ladder. She also works as a mentor to people with disabilities and mental illness.

Nas Campanella will be a plenary speaker at the Pathways 14 Conference.
The conference themes are inclusive, innovative and ingenuity, can you tell us about your experience studying at university and if any of these themes relate, negatively or positively, to that time?
My time at university was busy and stressful thanks to a timetable that involved balancing part time paid work, classes and unpaid internships. However, the student services department at the University of Technology Sydney [UTS], did their very best to ensure I was given all the tools I needed to achieve my degree. I was given note takers, audio textbooks and where textbooks couldn't be converted from printed copies to electronic versions, I was given one on one tutoring. Lecturers and tutorial leaders would also have worksheets converted into electronic text ahead of class. All of this support meant I found university a very positive and inclusive experience.
Journalism is widely understood to be a cutthroat industry, have you faced any challenges in disclosing your vision impairment or having appropriate workplace adjustments put in place?
I faced discrimination when I first started looking for work. I chose never to disclose my disability in a job application, either doing it when someone called to invite me for an interview or when I walked into a room for the actual interview. It was tough to try and have to convince employers that it was worth taking a chance on me. It showed me how much work society still had to do to change negative perceptions about what people with disabilities can do and how we're treated. Disclosure is a very personal decision. There's no right way or time to do it. The best thing job seekers with a disability can do is ensure they have the right skills, experience and confidence to do the job.
As disability practitioners, we work with students while they're at university to facilitate the reasonable and necessary adjustments to their studies. When they go off into the workplace, this is a space they often need to navigate and advocate for independently. What advice would you give to university leavers on having this conversation and discuss appropriate supports with their future workplace?
Never be afraid to approach a manager about adjustments or supports you need to do your job. I know, it's easier said than done, and having the confidence to do this only comes with experience. However, if you approach them by constantly reinforcing the importance of the support required, be open minded and patient you'll make positive headway. It also helps to know what support you require rather than asking for their suggestions and presenting solutions instead of just problems.
How does the technology you use help you in your role?
I rely heavily on technology. It's how I read newspapers, books, do my research and ultimately produce and present news bulletins. I use screen reading software called Jaws which is a little robotic Americanised sounding voice. Jaws scans text on the screen and reads it out aloud in my headphones. I read the news by listening to Jaws read out the stories I've compiled into the bulletins and then simultaneously repeat what it says.
Does every bulletin run smoothly?
When you rely on technology there's bound to be some pitfalls. There have been times where the computer has frozen on me and that's always scary. I've got two back up computers in the studio which I can jump on if that happens and for the most part everything does run smoothly. If it doesn't I'm always honest with the audience and try not to take myself too seriously.
What could workplaces in Australia do to promote and practice better inclusion and diversity?
Three key areas businesses should prioritise are digital accessibility, disability awareness training and increased investment in workplace modifications. With more and more people using the internet, businesses need to place greater focus on ensuring their websites are accessible. One of the biggest problems is that mainstream society believes people with disabilities can't work. Change the attitude and you'll change the workplace. The best way to do that is to create awareness programs exploring language, policies and workplace adjustments. That will show employees the huge number of benefits that can come with creating a diverse workplace.
Nas will be one of the plenary speakers at Pathways 14 - to be held at the Novotel Manly Pacific in December. You can register online here