Interview: Manisha Amin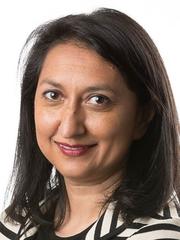 What exactly is 'Inclusive Design' and why is it important/pertinent to implement this in technology?
Inclusive Design is a way of thinking, a mind shift to looking at who your product has excluded and finding innovative ways to solve that issue. We focus on those excluded, often left on the edges as these are the people who the system has failed, or the system just doesn't work for and look to solve for them. This means an innovation like an electric toothbrush for example, which was made to help with mobility, works not only for someone with arthritis but also for young children. Inclusive design's power is in finding cross cutting abilities and designing systems that will work for them, which in the case of the electric toothbrush revolutionised the industry.
There are really two reasons why you should include this methodology in technology. First, it is good design. If you are designing technology without an inclusive lens you aren't building a robust, perceivable, operable and understandable product. Inclusive design isn't a silver bullet, but it is a method to fixing the gap between products, services and systems and a person's ability and using this to innovate.
You're on the board of ADHD Australia, a non-profit organisation committed to removing barriers to wellbeing for people affected by ADHD. What do you see as some of the major challenges facing families and individuals living with ADHD? 
Like many mental health issues – we discount what we can't see. People with ADHD are often categorised as lazy, thoughtless, slow and poorly parented. The outcomes of the condition and the impact on families is huge. We look to remove the stigma for ADHD and ensure that we have a way forward for families and communities.
How do you think Inclusive design can be embedded into teaching practices?
Inclusive design is used in connection with both the open education movement and the notion of individualised teaching both locally and globally. We know that engagement increases with inclusion, and engagement at an educational level leads to better teaching practices and better student learning.  As we move to education 2.0 it's critical that all students are supported and able to learn to the best of their ability.  It's critical that we take a look however at the whole system. The child, the parents, the teachers, and the schooling system.
For example, how are teachers recruited, supported and rewarded? How do we create an inclusive environment where the teachers are engaged with their lessons, engaged with that they are teaching and learning themselves and not overwhelmed with the pressures of workload that we so often see?
Another example would be captioning. Even when there isn't a person with a hearing impairment, captioning helps children to read, helps people from non-English speaking backgrounds and helps most of us retain information.  Transcriptions of lectures don't only work for people who can't hear.
Technology combined with common sense means that we can re look at the way we teach and support education so that students can thrive. But we do need a whole of education approach.
What issues do you think higher education students in Australia are facing today? How are higher education institutions helping or hindering those issues?
Research by the Foundation for young Australians shows that while more young Australians hold a post school qualification, full time work is increasingly difficult to obtain.  While the number of subjects is greater than ever students often struggle with relevance, and the lack of teaching around critical thinking. In addition, as work changes the relevance of the content of courses changes. Unfortunately for students with disability, class room supports are patchy. We see great examples and not so good examples. The good news is that there are more individualised opportunities than there have been in the past. If you have the means to access them.
Your talk is titled "Pick me!", what skills do you hope to people who attend your session leave with?
This talk in conjunction with Hudson Australia will look at the graduate recruitment system and focus on outcomes and tips for all students looking for work.
Manisha will be one of the invited speakers at Pathways 14 - to be held at the Novotel Manly Pacific in December. You can register online here