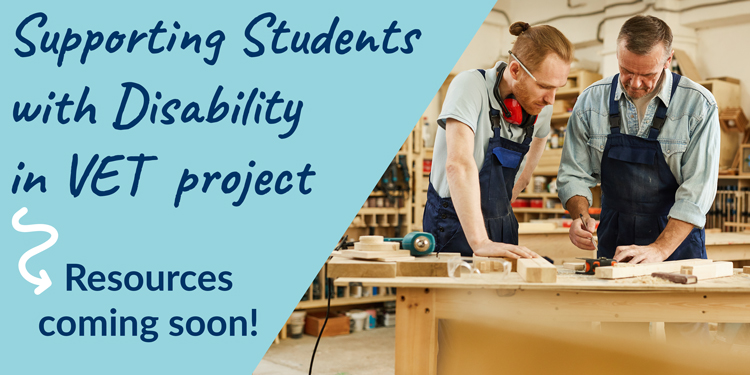 Supporting Students with Disability in VET – coming soon! 
ADCET was funded by the Department of Employment and Workplace Relations to undertake three projects as a program of works to transform the capacity of, and provide support to, the wide range of VET providers to assist them in supporting students with disability. 
This program of work has been developed in response to the 2020 review of the Disability Standards for Education 2005. Each project was overseen by a Project Reference Group (PRG) drawn from a broad range of representatives from public, private RTOs, disability organisations and people with disability. The PRGs provided advice and guidance to shape each of the projects. 
We envisage that the resources developed through this program of works will be launched mid-September 2023.  
Resources will include: 
A comprehensive toolkit that aims to assist and build RTO capability to support students with disability to engage with and undertake training in the VET sector, to support understanding of their obligations under the Disability Standards for Education 2005 and the rights of students with disability.
Guidelines supporting disability inclusivity in Nationally Recognised Training products
Guidelines for inclusive enrolment practices.  
We encourage you to sign up to the ADCET newsletter as the resource and launch date will be advertised there.  
The Supporting Students with Disability in VET Toolkit is a range of resources to build your capability, and feel confident in implementing inclusive practice, including:
developing and facilitating inclusive enrolment and engagement practices
designing, developing and implementing accessible and inclusive delivery and assessment
consulting students with disability about their support needs
determining, documenting, implementing and monitoring reasonable adjustments
continuously improving your practice.
The Toolkit Resources are based on the 2020 Review of the Disability Education Standards, analyses of recent research and industry reports, the experiences of VET staff and practitioners, and guidance from sector specialists. 
 All resources will be free, downloadable and customisable.