Vocational Education and Training - applying and enrolling in your chosen course 
There are many vocational education and training (VET) opportunities through a wide variety and range of providers for students from secondary school age through to experienced and mature aged people. A VET qualification may provide a vocational pathway into employment or an educational pathway to further VET studies or education at university.
Education providers may be from the community and public sector (e.g., TAFE), private training organisations, or industry and enterprise-specific. Courses and programs delivered by the following providers will include accredited and non-accredited units, and eligibility will be dependent on both the type of program chosen and the provider.
Questions to consider
In narrowing your preferences, it may help to consider questions such as:
What work will I be qualified to do after completing this study?
Will the qualification be recognised by employers?
Do I meet the eligibility criteria for this study?
What are the course fees, and do I have to pay the fees upfront?
Can I get government income support?
Where is the provider located?
Does it have student support services, including support for students with disability?
Does it have a good reputation?
MySkills training directory

provides the most up-to-date information on training courses for school leavers, students, apprentices, and employers.
If you are still unsure about your post-secondary options go to our Planning for Post-secondary Education pages.
Why VET?
There are a few different reasons to undertake VET studies. These include:
it is a practical education option that providers work-ready skills with the latest knowledge
it is industry-focused with courses designed by industry experts
it is a fast, cost-effective pathway to employment with the confidence of a formal qualification behind it
broadening your skills and knowledge in a particular area
increasing employment options.
increasing opportunities for further studies e.g., use your VET credentials to explore university education e.g., from enrolled nurse to registered nurse, or an information technology (IT) technician to an IT programmer. 
Qualification levels offered
Some students may undertake VET certificates e.g., Certificate I, II or III while still at secondary school. Commonly, you might commence a Certificate IV or Diploma. You might also consider enrolling in an apprenticeship or traineeship which includes some classroom activities through Certificate studies as well as on-the-job training with your employer.
The AQF qualifications wheel shows the different levels of qualifications. You can find more information on the AQF website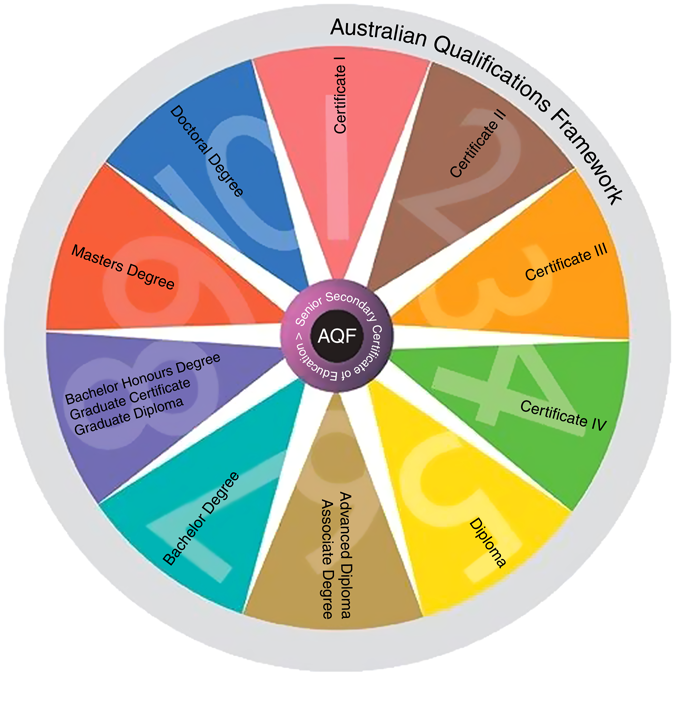 Vocational Education and Training in Schools
The VET in Schools program is a key component of the federal government's vocational strategy to improve year 12 retention rates, increase skills and address skills shortages. It operates across all states and territories in Australia. Essentially, VET in schools allows senior secondary students to undertake an accredited foundation vocational skills program whilst studying in their final years of schooling.
Attending vocational training over one or two days per week allows the student to learn valuable industry/work skills that will easily translate to the workplace.
Application
Students in years 11 and 12, and sometimes earlier may like to participate in a VET in Schools program as part of their tertiary preparation or vocational pathway program. Although it is subsidised by the government, there may be a cost associated with the program.
Eligibility
The program caters for senior secondary students who undertake a nationally accredited course during years 11 and 12. The scores and competencies achieved will contribute either towards their ATAR score or year 12 certificate.
To find out more about VET in schools, talk to your vocational/careers advisor at your school or college.
Technical and Further Education (TAFE)
Technical and Further Education, or TAFE as it is commonly known, offers courses designed for:
young people preparing for their first job
mature age people looking to train or retrain
people preparing for university studies.
TAFE is a public training provider funded by each state government. It offers vocational training and education from the foundation level (i.e., Certificate I), to diploma or advanced diploma. A small number of TAFEs also offer bachelor degrees, graduate certificates and diplomas. TAFE courses are usually developed in consultation with industry and focus on providing the knowledge and skills required in the workplace for a given industry or field.
Application
You must apply and meet the minimum entry requirements of the course. Applications can be made through the relevant state tertiary admissions centre or directly to the TAFE organisation itself. Some TAFEs will take into consideration work experience or previous learning and may allow for special consideration on the grounds of equity.
Eligibility
Some TAFE programs are subsidised by the government. These include, but are not limited to, some apprenticeships and foundations skills programs. Depending on the program, the eligibility criteria may include attending an interview, presenting a portfolio of work, or completing an assessment or aptitude test.
TAFE graduates can claim credit toward higher-level TAFE qualifications and toward some university degrees. Graduates with a diploma may also be eligible for some university courses in a similar field and be given credit or recognition for prior learning. For further information about this process, contact your tertiary admissions centre in your state or territory.
Check out your state or territory TAFE website or search Myskills for more information.
Private registered training organisations (RTOs)
Private registered training organisations deliver accredited and non-accredited courses and programs across Australia. Currently, there are more than 4000 private RTOs operating nationally.
To be registered as a training organisation, RTOs must meet a range of mandatory requirements set by the Australian Skills Qualification Authority (ASQA) and state and territory regulatory bodies.
Private RTOs provide qualifications ranging from certificate I to advanced diplomas, in a wide range of fields such as beauty therapy, hospitality, travel, business, computing, music, childcare and naturopathy. Alongside TAFE, private RTOs are also one of the largest providers of vocational education and training (VET) programs in Australia.
Application
Applicants must meet the minimum requirements for the course. These can vary greatly, so ensure you contact the course coordinator or check the RTO website. Applications must be made to the RTO directly. Note that a deposit may be required upon application to hold a place for you.
Eligibility
Entry into a private RTO program is not necessarily based on year 12 results or other previous studies or work experience. Some programs may not have any formal prerequisites at all. Check the provider's website for further information on entry requirements or prerequisites.
For general information on courses and programs available contact your local Private RTO or search the MySkills website.
Community providers
Australia's not-for-profit community education and training providers offer a wide range of accredited and non-accredited courses, classes and learning programs to job seekers, employers and community members in their local area.
Courses and programs include English language, foreign languages, computer software and IT, and life skills such as cooking and budgeting, numeracy and floral design.
Application
Applications are made directly to the provider. Costs apply and vary depending on the program or course, although some vocational and preparatory programs and courses may be fully subsidised by the government.
Eligibility
Eligibility depends on the particular course or program; however, many programs have no specific eligibility criteria beyond the desire to learn and share.
All training providers on the Adult Learning Australia site are registered and uphold the principle of lifelong learning. Some programs will be be sponsored by the government and eligibility criteria may include being registered as unemployed and seeking work.
For more information and to search for a program or course, refer to Adult Learning Australia (see below).
Adult Learning Australia
Adult Learning Australia (ALA) is the national peak body representing organisations and individuals in the adult learning field. ALAs mission it to advance a learning society, through advocating and promoting accessible and quality learning; researching and advancing innovative approaches to learning; developing and influencing policy on adult learning; and celebrating the joy of learning.
Who to contact
Find out who to contact at your preferred university on our 'Who to contact @ uni' pages
Find out who to contact at your preferred university on our 'Who to contact @ TAFE' pages or look for your preferred VET provider's website. Don't forget to ask them about support for students with disability as well!
Other Weblinks
Ticket to Work takes a partnership approach to improving the employment and education outcomes of young people with disability. Ticket to Work achieves this by supporting organisations, in local regions across Australia, to build a 'Local Ticket to Work Network' so that they can provide students in their community with career development, workplace preparation, work experience and Australian School-based Apprenticeships and Traineeships.