Lingering Impact of COVID-19
By now, COVID-19 has become firmly entrenched in our vocabularies and lives. Since its 'unprecedented' rise in late 2019, the virus has spread around the world, infecting more than 251 billion people and killing more than five million.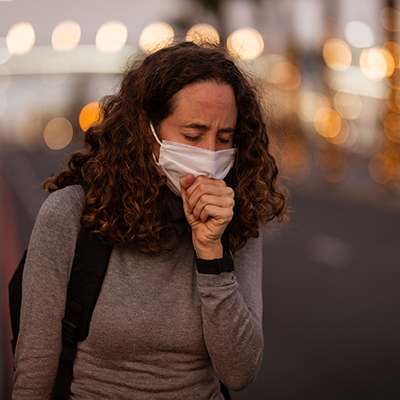 But the headline numbers don't tell the full story: for so many of those billions of cases, the struggle against COVID-19 doesn't end when they finally test negative. Survivors are finding that, months on from their infection, they are still struggling with the ongoing effects of this novel virus, reporting symptoms that persist for months and impact their entire lives. This collection of ongoing symptoms has come to be known as 'long COVID'.
The Australian Government now recognises that Long COVID may consist of tiredness, difficulty breathing, a persistent cough, chest pain, joint pain, lacking energy to exercise, fever, headaches, brain fog and depression or anxiety. These symptoms may last for weeks or months after infection.
Researchers at the Penn State College of Medicine found that more than half of those who have contracted COVID worldwide will struggle with Long COVID.
Australian doctors have reported patients suffering from intense fatigue, cardiac damage, pins and needles and breathlessness among other symptoms, all persisting well after the person is considered to have 'recovered' from the disease.
Support for students
Students returning to tertiary education after their illness who experience long COVID may need supports, considerations and reasonable adjustments to address the impact of the syndrome on their attendance, participation, and performance in their studies. 
A recent US-based Long COVID Task Force, comprised of 32 individuals working in disability services, has created a workbook of suggested strategies that disability service providers can use to assist people experiencing long COVID.
Firstly, the workbook notes, it's important to recognise how students may be affected. Their physical and mental health may be significantly impacted. These symptoms may then impact on their academic performance. Students may also struggle with not knowing for how long their symptoms will last – or whether they will be permanent. 
For disability support staff, you'll already be familiar with addressing functional limitations. When faced with a case of long COVID, gathering information is critical. Some students will have medical documents about their long COVID journey, while others will not. The Task Force suggested that service providers speak to each individual student about what they need. Get an idea not just of the facts around their illness, but why they've met with you and what supports they feel they need to achieve in their course.
The Task Force also recommended considering each case individually and considering the information the student has given you; for example if they have supplied comprehensive medical documentation, you may not need to do as deep a dive in your interview with them. Take a conversational approach to the interview and do your research prior to the interview so you know a bit about the student you are meeting with and can build rapport with them. The Task Force has developed a series of questions you might find useful for your chat – you can find them in the link at the end of this article.
Medical documentation
The US Long COVID Task Force has not developed a protocol for what is considered acceptable medical documentation of long COVID and in Australia work is still developing on managing Long COVID. As a Disability Practitioner your approach to documentation will depend on best practice within your own Disability Service and those of your higher education institution. The documents that students are able to provide may differ dramatically and it's important to bear this in mind.
The Royal Australian College of General Practitioners (RACGP) recommends individuals who have had COVID or experiencing post-COVID symptoms consult with their GP or other allied health practitioner so it most likely that students will present medical documentation from their GP. The RACGP has produced a symptoms diary for people experiencing Long COVID symptoms to use in conjunction with their GP or allied health professional as well. See further information under the Reasonable Adjustments: Long COVID section.
Reasonable adjustments
Throughout the workbook, the Task Force reminds us that Long COVID is still largely an unknown; we don't know exactly how long or in what way these issues will affect students. They go on to say that what we do know is that the syndrome can be a disability – and students therefore require assistance. Many of the symptoms exhibited will be familiar to you as symptoms of other disabilities, which should help as a starting point for the sort of supports that will need to be put in place. 
Some suggested supports, as determined by the US Long COVID Task Force, include:
extended time on tests 
reduced distraction testing 
audio recording for classes 
note taking support 
alternative text materials 
priority scheduling 
reduced course load.
Other strategies are listed within the workbook. You may also wish to explore ADCET's page on inclusive teaching strategies for health conditions
For Disability Practitioners who need further information visit Reasonable Adjustments for Long COVID 
For students who need further information on reasonable adjustments visit Student with Disability
You may need to check in with the student periodically, especially in the early days of their journey, to see how they're coping and whether their symptoms have developed or stabilised.
Perhaps most importantly, remember what it is you do and why: to help students achieve success on their terms to achieve their higher education goals. How can you assist students with long COVID to do so?
Written by: Danielle Kutchel
Updated July 2022