deafConnectEd - Changing the conversation on supporting students who are Deaf or hard of hearing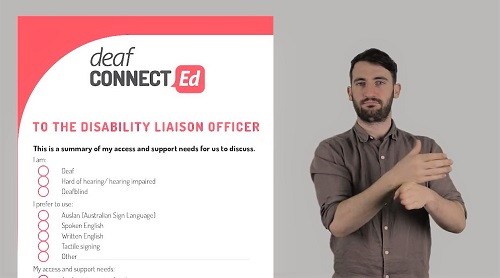 deafConnectEd occupies an interesting place in the tertiary education landscape. Neither exclusively an education provider or a student service provider, it nevertheless offers extensive support for educators, disability liaisons and students alike. deafConnectEd provides information to people who are Deaf or hard of hearing and who are studying or considering study, and also provides support to teachers, interpreters and notetakers so they can provide the best education experience for Deaf or hard of hearing students.
It's funded by the Victorian Government Department of Education and Training, hosted by Melbourne Polytechnic and run by a hard-working team, including manager Joe Sabolcec and Project Officer Andrew McQualter.
 
Joe described deafConnectEd as an "adhoc-racy" in that it's responsive to what is required. It has evolved from its beginnings in 1993 as the Centre of Excellence for Students who are Deaf or Hard of Hearing, to become an organisation that informs the sector as a whole. Funding changes over the years again led deafConnectEd to adjust its role, and the centre took on more of a consultancy-style role that supported the sector by promoting the options that would benefit Deaf and hard of hearing students. To this end, the organisation established the first interpreter booking service for the TAFE sector. They currently also provide training for notetakers via free, online, self-directed units.  
Focus Areas
This year, deafConnectEd is continuing its mission of creating successful outcomes for Deaf and hard of hearing students with two areas of focus. The first is how to better support Deaf and hard of hearing learners in TAFE, especially as they transition from school to the TAFE setting.  
 
"The barriers can be a bit challenging," Joe explained, "Some people do fall through the gaps in that critical period straight after school. Coming into TAFE requires them to be able to self-advocate and to understand the sorts of support services they need. And in school that's provided automatically for some students … but TAFE expects that everybody is pretty much an adult when you sit down and you know what you want to do, and that's where some students aren't quite ready to take on that self-advocacy and be clear about what it is they need. We just want to improve that process." 
 
The second area the organisation is working on, Joe said, is Auslan teacher workforce development. deafConnectEd is working to recruit more Auslan teachers – the more teachers there are, the more students there will be, and the more interpreters can be trained and deployed across the sector and more broadly.  
 
"It's an important employment opportunity for Deaf people to teach Auslan," he added. 
 
With the rise in demand for interpreting thanks to the National Disability Insurance Scheme (NDIS), there are less interpreters available to go into TAFES and universities, he explained. COVID, he said, has also given rise to another problem with the growth in online interpreting. Often there will be interpreters available for online work, but not enough to go on campus to work with students in practical courses. But deafConnectEd is working on addressing the issue through the training it provides.
deafConnectEd Role
As awareness of accessibility for the Deaf and hard of hearing community grows, the role for deafConnectEd has become somewhat more straightforward, the pair said. Now, teachers usually have some experience in supporting Deaf and hard of hearing students, and understand the value of having an interpreter in the classroom. That experience is also beneficial for non-disabled students, who get to see disability support in action. 
 
Andrew, who started working at deafConnectEd in 2017, said the organisation has grown to become more connected to other service providers in recent years. This has dovetailed with another area in which the organisation has grown: enhancing English literacy for the Deaf or hard of hearing community. 
 
"Even though we're still maybe a long way from achieving what we'd like to see in terms of English literacy education for Deaf people, they're more able to access mainstream services. The conversation itself is changing, and people are starting to get the message. And I think that's by different service provision groups getting together, having the conversation, and making an effort to talk to heads of departments in TAFEs and universities, and people working in government. So, I'm hopeful that things will change," Andrew explained. 
 
Joe added that in some ways, Deaf and hard of hearing students have much in common with people from culturally and linguistically diverse backgrounds – "because it's about interpreting, it's about information in plain English, it's about respecting the person and the fact that they don't have English as a first language." 
 
But often, he said, this isn't understood by the bodies that provide funding for accessibility services – which can lead to gaps in funding for things like ongoing interpreting. Another barrier that deafConnectEd is working through is recruiting people with lived experience – people who are Deaf or hard of hearing – to be careers counsellors for Deaf students, to act as role models and speak to them in Auslan about their future options. A lack of cash is, once again, a major factor here – but not a deterrent for Joe and Andrew. 
 
"I think that concept of lived experience is coming up in the literature more, and in guidelines as expectations," Andrew mused. 
 
Joe added: "But the challenge that that also creates, that we're experiencing now, is to recruit Deaf people with the skills and knowledge that you need for these positions. So that goes back to one of the things that we want to work on, which is workforce development for the sector as a whole." 
 
He and Andrew are confident that by working together with other service providers as well as tertiary education providers, they'll be able to achieve their shared goals. Collaborating closely with other providers also helps with workforce development, as staff grow professionally as they move into new roles across the sector along their career pathway.  
 
In between these goals, Joe said deafConnectEd is available to assist educators and managers in the TAFE sector in a number of ways. He said students should contact their disability liaison within their education provider at the point of enrolment for the best support through their study pathway. TAFE Staff can contact deafConnectEd to discuss how to best make use of interpreters in the classroom, or to get answers to common questions around issues relating to the deaf community, or to arrange deafness awareness sessions. Deafness awareness training provides education staff with the basic information and confidence to work effectively with deaf or hard of hearing learners.  Meanwhile, the deafConnectEd website also has plenty of information and resources for teachers and staff to peruse.
For staff who haven't encountered a Deaf or hard of hearing student before, Joe said it was vital to speak to the student as soon as possible and find out about their preferences and needs.  
 
"No two people are going to be the same. Hearing loss can vary a lot between two people and even during the day for some people depending on the type of hearing loss they have," he said. 
Written by: Danielle Kutchel
May 2022
Related links