ADCET Webinar: Affirming LGBTIQA+ people with disability
ADCET is delighted to bring unique voices speaking on inclusion to our webinar series. For this webinar we invited speaker, writer, university lecturer, spoken-word performer and theatre producer Jax Jacki Brown (OAM) to speak on the experiences of LGBTIQA+ people with disability.
Jax (they/them) explored the experiences of LGBTIQA+ people with disability through a social model of disability and intersectional lens. They utilised their lived experience as well as drawing on research into LGBTIQA+ people with disability to unpack the key issues of access and inclusion for this group.
Jax also provided practical ways you can be supportive and affirming when working with LGBTIQA+ people with disability. They explored pronouns, how to use them and why they are important. 
Audience: VET and Higher Education tertiary sector staff and students and anyone who wants to understand inclusion and intersectionality.
Presenter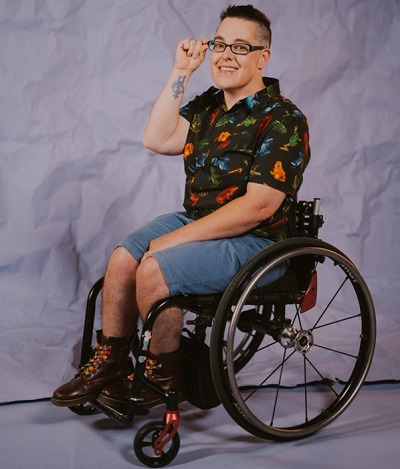 Jax Jacki Brown (OAM)
Jax (they/them) is an esteemed disability and LGBTIQA+ rights activist, writer, educator and consultant. Their tireless commitment to LGBTIQA+ disability human rights and advocacy has been recognised with a Medal of the Order of Australia (OAM).
Jax utilises their experience as a queer non-binary wheelchair user to explore intersectional identities. They view disability as a socio-political question and wants to see solutions with an intersectional lens and equality, access, and human rights at the heart of it.  
Jax has served on the Victorian Disability Advisory Council, Victorian Government's LGBTI Taskforce Health and Human Services Working Group, and the Victorian Human Rights and Equal Opportunity Commission's Disability Reference Group.
Jax is interested in how we can build a just and equitable society which fosters resilience, pride and community for LGBTIQA+ people with disabilities.
Resources to support LGBTIQA+ people with disabilities  
Rainbow Rights: Self-advocacy: A group run by and for LGBTIQA+ people with intellectual disabilities
Spectrum Intersections: LGBTIQA+ Neurodiverse  peer group
Rainbow Inclusion: A website for LGBTIQA+ people with disabilities
Thorne Harbour Health and Inclusion Melbourne-LGBTIQA+ disability NDIS resources
Sexuality, Education, Counselling and Consultancy Agency (WA) (not LGBTIQA+ specific)
Research about LGBTIQA+ people with disabilities
The Everyday Experiences of Lesbian Gay Bisexual Transgender and Intersex (LGBTI) People Living with Disability Report, 2018
More than Ticking a Box: LGBTIQA+ People with Disability Talking about their Lives Report, 2021
ADCET is hosted by the University of Tasmania