Champion for Change: UQ Disability Inclusion Group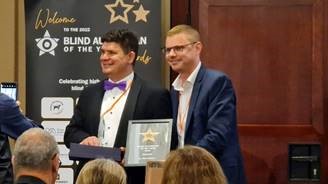 The University of Queensland's Disability Inclusion Group

doesn't just preach inclusion; it demonstrates it every day, in every way.
The group was formed in 2017 and follows the example set by the implementation of the United Nations' Convention on the Rights of Persons with Disabilities – "nothing about us unless it is led by us". The Disability Inclusion Group – known as DIG for short – is led by people with disabilities. The Chair is Dr Paul Harpur, who was also recently named Blind Australian of the Year.
"There has been a paradigm shift that says that all disability initiatives must have a strong and active involvement by persons with disabilities. If we really want to follow the new paradigm, then persons with disabilities must be leading committees and groups that impact on persons with disabilities," said Paul, who is a strong advocate for this inclusion.
"I would like to see this go further. I would like to see more sector-wide efforts with persons with disabilities in leadership positions."
The University of Queensland appears to be leading the way; its latest disability action plan draws from a publication that Paul penned with Professor Michael Ashley Stein from Harvard Law School.
"The plan adopted the vision we presented in our 2018 paper entitled 'Universities as Disability Rights Change Agents'. This means my vision is the University of Queensland strategy … or does it mean that the University of Queensland's strategy is my vision?" Paul said.
There are numerous other ways in which UQ's alignment between disability inclusion and strategic and operational direction can be seen. "I sit on our Senate Sub-Committee for Equity, Diversity and Inclusion, where the Vice-Chancellor and Provost also sit, and the University of Queensland is the first higher education member of the Australian Human Rights Commission Include Ability Network. We do inclusion and it is showing," Paul said.
UQ's commitment to sector-wide and broader transformational change is evidenced in the recently released Australian Human Rights Commission's Disability Action Plan Guide 2021

. The University of Queensland and Paul are acknowledged for their contributions to the development of the Guide. Paul is cited in the Guide, explaining that "persons with disabilities have the expertise to support disability inclusion, and when strongly supported by senior leadership, they also have the authority to realise change."
In the Guide, Vice-Chancellor Professor Debbie Terry, Deputy Provost Professor Tim Dunne, and Dr Dee Gibbon have their contributions to advancing disability inclusion recognised, as do the Senators, Provost and other members that sit on UQ's Senate Sub-Committee for Equity, Diversity and Inclusion.
Paul is positive about the future direction at UQ: "Our next disability action plan is going even further. I strongly believe, when disability is included in university strategies, then universities can become disability Champions for Change, and staff, students and the wider community can benefit from a more inclusive world."
DIG was among this year's cohort of Champions for Change, announced on World Access to Higher Education Day 2021 in mid-November. It was noted that the group, comprising Tim Dunne, Paul Harpur, Kym Powell, Tim Sweeney, Celina Campas, Rob Pensalfini, Alicia Steele, Clare Tarlington, Angela Hannan, Leonie Meyn, Kathy Ellem, Rene Ferm, Melinda Browning, Peter Rutherford, Jolene Cooper, Cecilia Flux, Brett Crunkhorn, Anthony Zgrajewski, Merrill Turpin, Paul Sheeran, Krista Markham and Brooke Szucs, "provides outstanding leadership and advocacy for students/staff with disability".
The group will use their new title as Champions for Change "to drive home our key message that universities can transform the world".
"Universities educate the disability leaders of tomorrow, employ the disability leaders of today, and produce research and innovation which can lead to a more inclusive world. What is needed is aligning disability inclusion with university strategy," he said.
DIG has emphasised this approach from its earliest days. It receives updates from schools and other parts of the university who are not directly represented in the group, and publishes these updates in an annual report. In an example of how DIG is aligned with the University of Queensland's (UQ) strategy, members of DIG are "encouraged and empowered" to seek out problems and present fixes to the university's leadership, Paul explained. To this end, DIG has received funding for university-wide audits and has helped lead their implementation over the past four years.
In 2018, after receiving funding to perform a digital audit of UQ, DIG found "a lot of problems", Paul said – but he was pleased when the university's leadership team then asked how to fix those problems. Those that were within the control of the university have now been addressed, he said.
Thanks to this strategic lens, the group has also been able to look at barriers faced by staff with a disability.
"When staff with a disability travel domestically or internationally they can have additional costs and complications. A blind person cannot work out public transport in a new city and needs to pay for a taxi. A person in a wheelchair cannot use cheap accommodation and will need a wheelchair friendly room in usually a 4-star hotel," Paul said.
To better understand this problem, in 2019 DIG obtained internal funds to research it and host a workshop. They suggested the establishment of a disability travel fund, and this proposal was "warmly adopted" by UQ, according to Paul. It is now operational and helping staff with disability to travel for their work.
Next on DIG's agenda is to take its disability action plan to the next level with a greater focus on universal design and universal design in teaching, linking research with practice.
"Most of us work in institutions filled with brilliant researchers. Often, we have the best and brightest researchers on an issue we are wrestling with. Well, why not connect the dots?" Paul explained.
Through joining these dots, DIG has helped improve the lives of staff, students and visitors with disability, has achieved academic outcomes by publishing research to show the impact of its policies and has provided research experience and paid leadership opportunities to the students with disability that it engages on projects.
DIG is also now turning its attention to how physically accessible the UQ campus is, having recently obtained internal funding for this work.
"We have engaged an expert with lived experience and will feed this back into our operational development agenda, into our work with getting our campus ready for the Brisbane 2032 Paralympics, into research outputs with academics on the team, and with our students as they are working on this project as well.  It will also have benefits to those who visit our campus to visit our wonderful facilities, or to attend our rehabilitation services," Paul said.
Paul also recommended a number of simple actions that everyone can take to make a more inclusive society: "If you are developing a strategy or policy, make sure the membership is inclusive. When making a purchase, make sure it is inclusive. When designing PowerPoints, make sure they are inclusive."
January 2022