Supporting Blind and Vision Impaired Students Online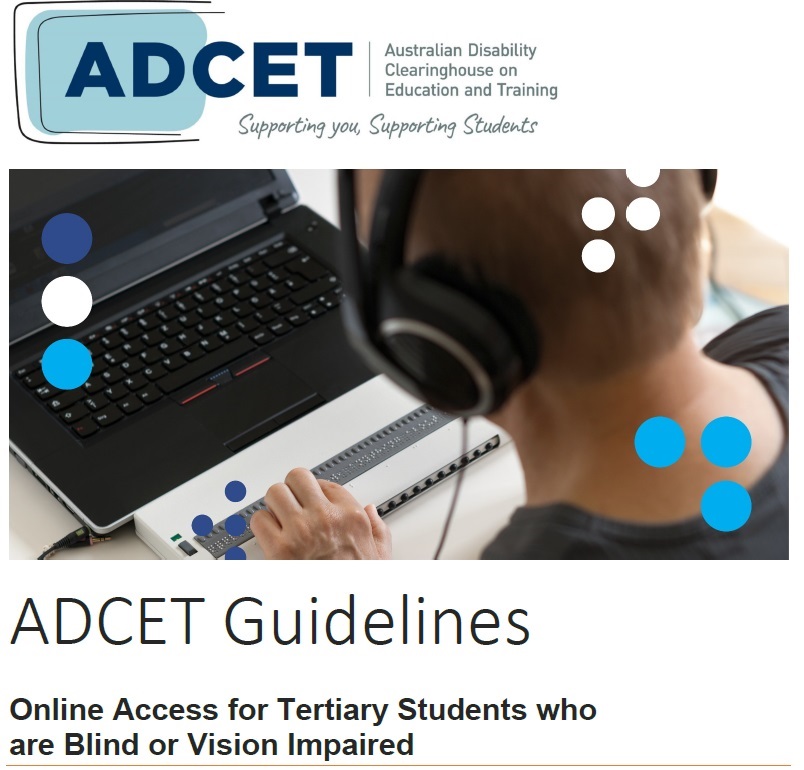 Increasingly there are demands on educators to integrate technology into tertiary education and training to support the development of 21st-century competencies, however the technology must be both accessible and inclusive to create equitable learning experiences. Learners, educators and other professional staff who are blind or vision impaired and studying or working in the tertiary sector in Australia often experience a range of barriers, particularly when the learning is provided online.
The idea for these guidelines emerged from discussion around additional guidance for staff resulting from the coronavirus SARS-CoV-2 (COVID-19) pandemic to provide improved online access for students who are blind or vision impaired. 
This resource has been produced by the Australian Disability Clearinghouse on Education and Training (ADCET) in partnership with the National Disability Coordination Officer Program (NDCO) program and Blind Citizens Australia (BCA). It has been informed by the professional guidance and expertise of an advisory group and has been influenced by the significant Vision Australia report (2018) Online, but off-track: barriers to online learning experienced by university students who are blind or have low vision

,
If you are a disability practitioner or educator (e.g. teacher of blind or vision impaired students, lecturer), these guidelines have been produced for you. Also, we have a free eLearning program

available to increase your ability to develop and facilitate teaching practice.
We encourage readers to be mindful of the ever-shifting landscape and new technologies as they emerge beyond the scope of these guidelines and recommend you explore new offerings as they come to light. 
The development of these Guidelines was funded by the Australian Government Department of Education, Skills and Employment.
Released March 2022