Champions for Change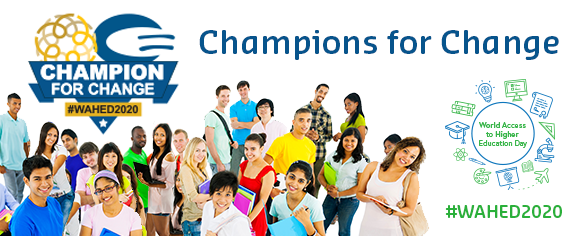 As a part of the Australasian hub event for World Access to Higher Education Day (WAHED), held in late 2020,  the National Centre for Student Equity in Higher Education (NCSEHE) and Equity Practitioners in Higher Education Australasia (EPHEA) announced their list of 'Champions for Change', people and teams who have gone "above and beyond" to support higher education students. These champions were nominated by their peers and students for their dedication and commitment to the sector and to student achievement, whatever that may look like for each individual. It was a particularly poignant recognition after the ravages of COVID-19.
ADCET caught up with some of the champions to find out what the recognition means to them.
David Eckstein, Swinburne University of Technology
David Eckstein's nomination statement, as seen on the NCSEHE website:
David has been nominated for his infectious enthusiasm and dedication. A true Champion for Change.
David runs the equity careers services for students with disability and HEPPP students at Swinburne. His role there involves partnerships with both internal and external industry stakeholders. As well, he is an Equity Fellow with NCSEHE and has been researching "the provision of career development learning for students with disability in Australian universities".
He said he was "genuinely moved" to hear of his being named a Champion for Change.
"There are so many people working across all levels of the sector to create more inclusive practice (and here's a call out to them). This unexpected public endorsement means a lot," David said.
Reflecting on the "infectious enthusiasm and dedication" that he was nominated for, David said the students he works with help him to maintain his enthusiasm.
"They are enthusiastic, interested in trying new things and we learn a lot from them. It's great witnessing their ability to take the reins and grapple with career development issues," he said.
But that's not the only thing that gets him out of bed every day.
"By creating the right space I help people find their voice. People arrive expecting to be told what to do, and leave having discovered more of their own strength. There's no better work," he said of his role.
He also gave a shoutout to his colleagues throughout the university sector and the world of work, who he said are "an enduring source of collegiality and support".
"There are so many people working to make a difference now, it's great to be part of it," David added.
He believes that there are still changes needed in the sector, and hopes that inclusion will soon become "as straightforward as wearing glasses, and that experiencing more equitable environments will be a natural part of participating in study and work for everyone."
"The professions need to be supported to better understand equity and inclusion issues, and how they make things better for everyone. We have come a long way, but we can still engage more skillfully with people's abilities. People with disability shouldn't incur additional struggle to pursue their individual aspirations and potential," he said.
uni 2 beyond team, University of Sydney
The uni 2 beyond team's nomination statement, as seen on the NCSEHE website:
uni 2 beyond is an initiative for adults with intellectual disability who want to experience university life. uni 2 beyond students study for interest as audit students at the University of Sydney and are supported by peer mentors to make social connections and to work towards individual learning goals.
There are unique barriers that are experienced by people with intellectual disability, who are typically excluded from the university environment. Whilst formal enrolment into university for people with intellectual disability is mostly unattainable, over and over again findings demonstrate the wide-reaching benefits. uni 2 beyond not only supports students with intellectual disability to experience university life, but also supports Australia to meet its requirements as a ratified member of the UN Convention.
uni 2 beyond is a social inclusion initiative run by the Centre for Disability Studies that enables students with an intellectual disability to experience tertiary education. Students are assigned a fellow university student as a mentor, who goes to classes with them and assists them with academic and social skills.
James Cann, Inclusion Support Officer for uni 2 beyond, said the team – comprising a coordinator, careers advisor, two social inclusion staff and a supervisor – considered it an honour to have been selected as Champions for Change, and to know that the people they are working for and with value the program.
"It's a rewarding thing to be a part of in the first place, so getting this recognition is an added honour," he said.
The team hopes that the recognition will help give the program greater exposure and potentially allow for expansion beyond the University of Sydney, to other institutions in different states or even countries.
uni 2 beyond fills a gap in the university sector and has provided a new road to inclusion for students with intellectual disability, integrating them into the mainstream tertiary classroom with their peers. 
James said around 50 students so far have completed the program.
"When you get to know them and see their growth over the two-year program, it's great to compare how they arrive and how they leave as a much more independent person," he said.
David Swayn, STEPS Group
David Swayn's nomination statement, as seen on the NCSEHE website:
David has a never-ending bucket of energy to champion change at local and systemic levels for inclusion and sharing best practice to ensure people with disability are effectively empowered to achieve their potential in all domains. David has instigated various regional and national initiatives including Education Alliance Queensland (EAQ) and the University Specialist Employment Program (USEP), contributed to government lobbying on behalf of ATEND and has a detailed underpinning knowledge of policy, legislation, and funding that informs his motivation to make change happen for the greater good. And he's a lovely person to chat to which always helps to connect to and be inspired by his passion, insights and determination.
David he said he had "no expectation" of receiving any awards for the "things we do every day".
Nevertheless, he was pleased to be named among the list of champions, adding that it "rounded out the year very well".
David said he enjoys his role at STEPS Group for the opportunity it allows him to make a difference to people's lives.
"If we are given a unique opportunity to make the world a better place, and if you get paid to do that, that's pretty cool. You get to advocate for changes that change people's options and opportunities and their ability to earn money and get an education – it's a privilege," he said.
One of the things he is most proud of is helping to grow the University Specialist Employment Partnership, which was started just a few years ago but has already spread to multiple universities and helped students into jobs.
David believes that this sector is one of the most challenging to work in, because sometimes the change you're trying to effect doesn't take place. But that doesn't dampen his passion and enthusiasm, as he continues "plodding along" to see what can be achieved.
To help him stay up to date and give his students the best chance of success, he said he invests a lot of his own time in reading and has taken extra courses in policy writing. "I've invested a fair bit of time in understanding the legal environment so that I have a good understanding of all the options available to students. I think the trick is you need to be a good reader and keep your eye on current events relating to access to tertiary education for students with disability." he explained.
Over the next year he plans to spend some time looking at the disparity between funding for students with disability in the school system, and their counterparts in tertiary education, to try and find a way to build a bridge between the two. He'd like this to be part of a "pitch" to show the importance of investing evenly across the education continuum.
In accepting his being named as a Champion for Change, David was conscious of those others in the sector who have helped smooth the way, in particular Darlene McLennan at ADCET, who has acted as a mentor to him over the years.
He said the idea of the Champions for Change awards was an important one for the sector.
"I think it brings to the fore the amount of people who are so passionate and trying to make a difference all over Australia, and we'd like to encourage them to keep the award system going over the years. I think it's something that could be very influential and encouraging over time," David said.
Written by: Danielle Kutchel
March 2021