James Newton: Passion and belief lead to path of fulfilment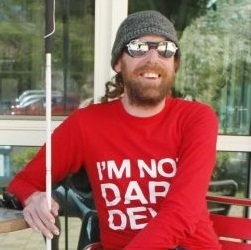 A passionate advocate for accessibility, especially in the digital space, it was almost by accident that James Newton, Disability Liaison Officer at TasTAFE, found himself in his role.
Sixteen years ago, James, who has Marfan Syndrome with Dysautonomia and who is blind, says he had fallen "into that stereotype of disability – high unemployment".
He had grown up in a household with supportive parents who also experienced disability and who had been shut out of the labour market. His experience at school was quite the opposite however, marked by daily verbal and physical abuse from both teachers and peers, so it wasn't a safe place.
"Due to this lifetime of public exclusion, I chose academic study to increase my chances of breaking the circle of poverty that my family found themselves in, and initially headed down the path of occupational therapy and non-directive counselling," James describes.
After losing his sight completely, he returned to study a Bachelor of Arts and Social Work and was admitted to the Dean's Honour Roll. From there came further postgraduate certifications in mental health. His chronic fatigue and the digital divide he experienced made the qualification journey "extremely exhausting", but also unearthed a passion in James for enhancing digital accessibility.
He reached out to various web accessibility experts – Jim Thatcher, Jakob Nielsen, Karen McCall and Dey Alexander – and gained a solid understanding of accessibility standards. James then became a founding member of the Digital Gap Initiative, and went on to receive special invite from the UN ITU Academy to participate in their online course on public procurement of accessible IT products and services.
So it was that becoming a disability practitioner was the furthest thing from James' mind. "I didn't really want to go back to my experience [at school]," he admits.
But all that was changed when a student experiencing blindness, whom he had met through a disability peak body that the two were part of, asked him to be her digital accessibility advocate at a course review meeting. From there, James met the institute's Student Services manager who engaged him as a learning design consultant. It was this manager who encouraged James to apply for the role of Disability Liaison Officer when it became vacant, speaking to the importance of having people who believe in you throughout your life.
While it was an unintended career choice, James says it hasn't been difficult to stay motivated. Meeting with students to discuss their aspirations and working with staff to create adjustments that address barriers to access keeps him feeling driven, and he enjoys watching students progress on their pathway.
"Getting to hear students proclaiming that they knew they could do it, and going from a lifetime of failing academically and considering themselves failures, to success at vocational education and training, that's got to be one of the most satisfying aspects of the job," James says.
"That transformative effect of identifying the impacts of various conditions, working with students and staff to develop appropriate strategies to address those impacts and enabling people to grow, shine and achieve personally and employment and life, I think that's remarkable and it's a privilege to be party to that process … I find myself cheering from the sidelines like a coach!"
Sixteen years is a long time in any industry, and James says he has watched the sector develop over that time. One of the biggest changes, he says, has been the continued movement of the rights-based model, culminating with the introduction of the disability standards for education.
"That has shown many educators that, far from compromising standards and outcomes, people experiencing disability have actually enhanced the education experience of every student. Attitudes have changed quite dramatically and while we still have a long way to go until we achieve the goal of universal access, I think we've come a long way as well," he says.
He hopes that both new and experienced practitioners can continue that growth by holding true to the social model of disability – "where students have physiological impairments but disabilities are the barriers created by people indifferent to the diverse needs of our community".
"It's important for practitioners to remember separate but equal solutions aren't really equal so do your best to demand more than this from your institutions. Try to view everything in your institution with a disability lens so you can pick up the prevailing ableist assumptions behind policies and processes and then advocate for these to align with the values that underpin the disability education standards," James says.
He also suggests disability practitioners try and be across capital works and new systems and processes so that they can ensure they comply with accessibility requirements.
Besides being a disability practitioner, James remains a firm advocate for greater accessibility for people with disability, especially within the digital space, that dovetails with his passion for social equity. He has served on a number of boards and committees to that end, which kept him busy outside of work in previous years until his worsening symptoms forced him to taper off somewhat. Beyond that, James is also an accomplished artist, creative engagement facilitator and craftivist, with a strong belief in the power of art to heal and build connections, especially for vulnerable communities.
One of his biggest career highlights is the Pathways conference in Hobart in 2006, where James attended Trevor Allan's presentation on integrating assistive technology as standard practise. James describes the presentation as an "impassioned argument".  It was also at that conference that James connected with the inimitable inclusive learning technologies advocate, Barbara Landsberg, then of Spectronics.
"That conference was huge for us, the institution I work in and for me personally, because it provided the impetus to progress. One of my earliest requests for the institution was purchasing sitewide licences for software like Read and Write Gold, so [Trevor's presentation and Barb's efforts to negotiate an extremely reasonable purchase quote] got that argument over the line for me, which ended up facilitating wider access for our students so they could move out of dedicated assistive technology rooms into main laboratories with other students," he says.
"It also meant our staff could access the software as well so they could familiarise themselves more directly with it and get a direct insight into how their learning material worked for students who needed to use that technology. I can never thank Trevor's presentation enough for that."
A great believer in the power of collaboration, James says it's important for practitioners and people with disability to combine forces and continue to campaign for adequate funding and services, and the development of policies and practises to ensure less variability in the experiences of students at different institutions.
"Having parents who battled through the Great Depression, I was raised to have that strong belief and standard in social justice. My own experience with both education and disability probably came together in a niche I didn't previously know existed, and so I love using my knowledge, skills and experience to make a difference for our students," James says.
Written by: Danielle Kutchel
November 2020