ADCET Recognises Exceptional Achievements at the 2023 Accessibility in Action Awards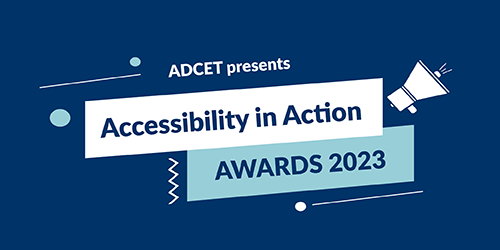 ADCET (Australian Disability Clearinghouse on Education and Training) is pleased to announce the winners of the 2023 Accessibility in Action Awards have been decided. These awards recognise individuals, project teams, and initiatives that have made significant contributions to advancing accessibility and promoting inclusive practices in tertiary education and training.
This year, the ADCET Accessibility in Action Awards received an overwhelming response, highlighting the growing commitment and dedication to fostering accessibility in the tertiary education sector. The winners were chosen by a panel of judges with expertise in accessibility and inclusive learning, design and student support.
There were five outstanding individuals who were recognised for their exceptional efforts in championing accessibility and 14 project teams who showcased their collaborative efforts. There were also four teams who were awarded a Highly Commended certificate for their efforts towards accessibility and inclusion. 
"Everyone has demonstrated outstanding innovation, dedication, and impact through their initiatives and awards like this allow this work to be shared across the sector" said Darlene McLennan, Manager of ADCET. 
All recipients will be publicly recognised at a virtual event held on May 16, 2023. This event will bring together industry leaders, experts, and advocates to acknowledge and honour the winners and their significant contributions.
"We are delighted to recognise the achievements of the winners of the 2023 ADCET Accessibility in Action Awards and we hope to invite them to share their good practice and innovation in future webinars and other activities through ADCET," said Darlene.
You can register below for the online awards event. A media pack will be sent out on Monday 15 May 2023. If you have any further questions, please email admin@adcet.edu.au